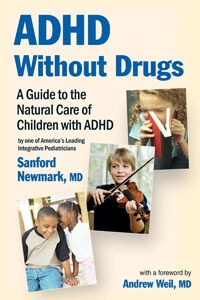 ---
ADHD Without Drugs
by Sanford Newmark, MD
Last August, San Francisco pediatrician Dr. Sanford Newmark presented on an integrative treatment approach to Attention Deficit Hyperactivity Disorder (ADHD) at the Bay Area based Integrative Medicine Conference for the Underserved.
He has written a well-researched book on the topic entitled ADHD Without Drugs: A Guide to the Natural Care of Children with ADHD, in which he analyzes and explains multiple factors that have led to a 1,600 percent increase in psychostimulant prescriptions for children since the 1970's.
In his book, he clearly presents a step-by-step approach for parents experiencing attention and hyperactivity issues in children, including diagnostic guidelines, evidence-based nutrition and supplement recommendations, behavioral modification approaches, and considerations to keep in mind in cases where psycho-stimulants are recommended as a part of treatment.
~ Krista Shaffer, VP of Business Development
---
Purchase On Amazon