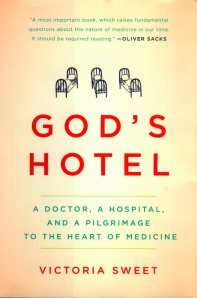 ---
God's Hotel
by Victoria Sweet, MD
An inspiring book recently came out, written by a Bay Area doctor who has practiced medicine for many years at Laguna Honda Hospital in San Francisco. In God's Hotel , Dr. Victoria Sweet paints a vivid portrait of lessons learned from her direct experience treating patients facing complex medical diagnoses; from working in a health care institution rooted in older practices of medicine that was forced to modernize, for better and worse; and from researching in-depth the medical writings of a medieval German nun, Hildegard of Bingen. Dr. Sweet manages to weave these three narrative storylines together in a way that provides insight into some of medicine's, and life's, core questions:
What is the essence of the animating life force that makes us who we are, and that leaves us when we die?
What helps a doctor make correct diagnoses, and what can a doctor do to facilitate healing?
What elements from pre-modern medicine have we lost that we would benefit from re-incorporating into our modern-day health care practices?
Throughout the book, Dr. Sweet makes a convincing case for "slow medicine." She explains a core healing principle from pre-modern medicine, viriditis, which didn't just refer to "greening or greenness," but to "…the power of plants to put forth leaves, flowers, and fruits," analogous to the "…power of human beings to grow, to give birth, and to heal" (p. 86). In this kind of approach to healing, a doctor's role includes a careful physical examination of a patient, the building of a relationship with the patient, and an ability to remove obstructions to and fortify a patient's own viriditis with good nutrition, deep sleep, fresh air, sunlight, and time (p. 125; 82; 96).
Dr. Sweet's advocacy for slow medicine reminds us of the practices of many inspiring integrative medical and naturopathic doctors, nurses and physician assistants whom we have had the opportunity to meet through our work at Koshland Pharm. To read more about God's Hotel, see Dr. Sweet's website: http://www.victoriasweet.com. Her book sheds light on what it means to heal, for health care practitioners and patients alike.
~ Krista Shaffer, VP of Business Development
---
Purchase On Amazon