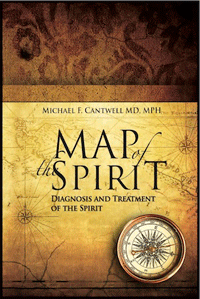 ---
Map of the Spirit
by Michael Cantwell, MD
Do you experience spiritual stress? Could this be a contributing factor to a health condition you are facing, and therefore an important area to address as a part of your healing process?
Dr. Michael Cantwell, an integrative physician who practices in San Francisco, sets out to answer these questions in his recently published book, Map of the Spirit. Dr. Cantwell gave a presentation this January at the Commonwealth Club, explaining this unique approach of looking at spirituality as one aspect of health and healing. He realized that the paradigm he had learned in his own medical training of looking at the role the mind and body can play in illness was missing a crucial piece for some of his patients: taking into account one's experiences with spirituality.
Dr. Cantwell defines spirituality very broadly – as a way people find meaning in their lives, or what they believe exists or doesn't exist beyond human experience. This looks different for each individual – dualist theology (a belief in God such as in Christianity, Judaism, or Islam) might speak to some; non-dualism (a belief in the oneness of all, such as in Taoism or Buddhism) might speak to others; atheism (the belief that God does not exist) also represents an important belief system in this definition of a person's spirituality.
What everyone has in common, Dr. Cantwell argues, no matter what form their spirituality takes, is that their health can potentially benefit from 1) determining their beliefs and 2) living out of those beliefs in their day-to-day lives. Dr. Cantwell proposes that people can experience spiritual stress, just as they can experience physical and mental stress. Because stress has a known negative impact on our health, and, it can even be argued, leads to the majority of diseases from which Americans actually die, it is important to take into account and attempt to remedy one's level of spiritual stress if it proves to be high.
How does one assess spiritual stress? Dr. Cantwell provides a simple formula in his book: rank on a scale from one to ten how important spirituality is to you in your life. Next, measure on a scale of one to 10 how satisfied you feel spiritually. Then, subtract your satisfaction from your interest. If the resulting number is low, you are experiencing a low level of spiritual stress; if it is high, you might want to consider taking spirituality into account when making a plan for your path to wellness.
This is only the beginning of Dr. Cantwell's theory he presents with both practical tools (such as a the measurement of spiritual stress) as well as real patient examples (patients form diverse spiritual backgrounds). For those interested to learn more, you will find in his book four different stages of spiritual development; examples of resistance that a person may experience moving from one stage to another; strategies for removing those blockages and increasing attention to spiritual development – all within the framework of thought that one stage is not inherently better than another. Rather, he suggests that the most important time for intervention in spiritual health is when, or if, spiritual stress is high.
What if, Dr. Cantwell asks, we put spirituality onto the map of what we look at when assessing overall health? Map of the Spirit provides a practical and thought-provoking approach for patients and doctors to consider when addressing health challenges.
For more information about Map of the Spirit, see Dr. Cantwell's website mapofthespirit.com.
~ Krista Shaffer, Outreach Director at Koshland Pharm
---
Purchase On Amazon