Quality Assurance
At Koshland Pharm, we know that high-quality medications lead to the best patient outcomes. Therefore, we are committed to the highest standards of quality in the compounding profession, as demonstrated through the procedures we follow to make medications; the training of our staff members; and the testing of our finished products.

Koshland Pharm makes medications of the highest quality, as demonstrated through its status as a PCAB accredited compounding pharmacy. The Pharmacy Compounding Accreditation Board (PCAB) is a service of the American Commission for Health Care and assesses pharmacies' compounding processes based on a specific set of standards which focus on the quality and consistency of the medications produced.
PCAB only grants accreditation to a pharmacy that passes a set of rigorous standards, including:
Using only high-quality, pharmaceutical-grade chemicals
Frequently testing its finished products at an outside laboratory to ensure potency and purity
Passing a thorough on-site inspection
Continually training and educating its pharmacists and technicians
For more information on accreditation, visit www.pcab.org.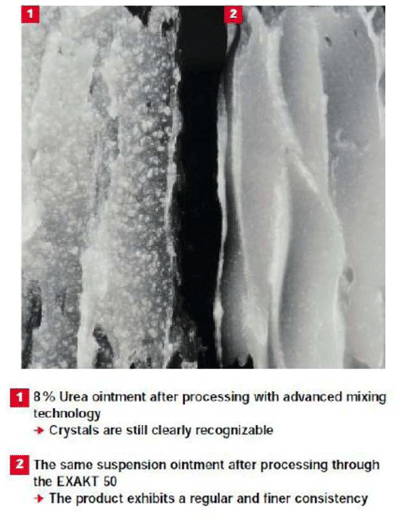 One example of Koshland Pharm's commitment to quality is demonstrated through the use of the most advanced technology in the industry, such as an ointment mill. The picture on the right shows the difference between a cream that has been run through the ointment mill and one which has not. This equipment allows for compounded creams with the most effective, consistent transdermal absorption. Not all compounding pharmacies use advanced technology such as an ointment mill to make their creams.
Why we use the Professional Compounding Centers of America (PCCA) for our active ingredients