Veterinary Medications
"I've had good results with the KoshClear otic gel. It's a convenient way to treat otitis (ear infections) in a single application."
– Rachel Feigenbaum, VMD, mobile veterinarian in San Francisco
Compounding pharmacy is the age-old practice of creating customized prescriptions. We now offer this practice for veterinary medications. From delicious, chewable treats to flavored suspensions to transdermal gels applied to the ear, compounded medications make it easier to administer treatments to each individual pet. Koshland Pharm makes high-quality custom compounds and follows up with pet owners and veterinarians to ensure optimal treatment.

Koshland Pharm meets the highest standards for quality and safety in its profession. Visit our Quality Assurance page for more information.
A Presentation for Veterinarians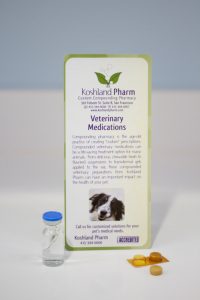 In 2014, Koshland Pharm and SF Veterinary Specialists hosted a presentation on compounded medication options for a wide range of animals with examples of how specific dosage forms can improve treatment outcomes for pets. Pharmacist Chris Simmons, who is a specialist in veterinary medicine, was the featured speaker. You can watch the lecture at the link below.
Video
Tips On Giving Medications to Your Pet:
Giving Your Dog Liquid Medications
Giving Your Dog Capsules
Giving Your Cat Liquid Medications
Giving Your Cat Capsules
Giving Transdermal Gels
Dosage forms include:
Flavored Oral Suspensions
Flavored Chew Treats
Transdermal Gels
Thermoreversable, Bioadhesive Gels
Tiny Capsules
Suppositories
Flavors Include:
Chicken
Liver
Beef
Bacon
Tuna
Fish
Shrimp
Apple
Banana
Peanut Butter
Marshmallow
Tutti Frutti
Vanilla/Butternut
Protein-free options available
---