Proprietary Pelargonium Sidoides Extract – EPs 7630 (Original Drops)
V Clear EPs 7630® is an upper respiratory treatment containing a proprietary, homeopathic preparation of Pelargonium sidoides extract (also known as African geranium). V Clear EPs 7630 addresses the underlying cause of symptoms to help speed recovery, and shorten the duration of upper respiratory irritations.
EPs 7630 is a proprietary extract which has been the subject of over 20 clinical studies involving more than 9000 patients. Over 3,800 patients have participated in controlled double-blind studies and over 5,400 patients in open-label and non-interventional studies. It has been an effective, well-tolerated, leading European medicine for more than a decade.
Exclusive, clinically proven extract with more than 20 clinical studies, including 9 prospective, randomized, double blind, parallel group, placebo-controlled clinical trials.
Shortens duration and reduces severity of upper respiratory tract irritations
Studied in more than 9,000 patients
Shown to be well-tolerated in clinical studies
Available in original drops or 99.9% alcohol-free cherry flavored syrup
Recommended Directions
Take 1.5 mL three times daily.  For best results, use at the first sign of symptoms and continue to use for an additional 48 hours after symptoms cease.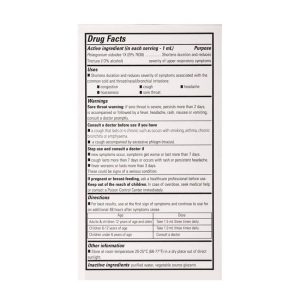 Also available for children.
*This statement has not been evaluated by the Food and Drug Administration. This product is not intended to diagnose, treat, cure, or prevent any disease.
VClear EPs 7630 Info Sheet