Viral Shield features three herbs that have been used for millennia for immune support and stimulation. Contemporary research on these herbs—andrographis, licorice root, and indigowoad—confirms the wisdom of their historical use.  Viral Shield may be especially helpful in supporting cytokine balance and respiratory function.*
Supports Healthy Immune and Respiratory Function*
Supports Healthy Cytokine and Eicosanoid Balance*
Designed as a Fast-Acting, Short-Term Formula*
Recommended Directions
Take two capsules daily. Do not open capsule before consumption. Recommended for short-term use.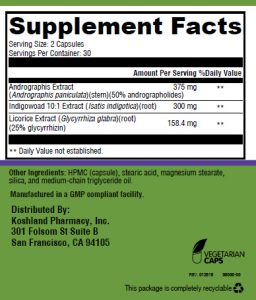 For enhanced effect, take Viral Shield with Immune Support from Koshland Pharm
*This statement has not been evaluated by the Food and Drug Administration. This product is not intended to diagnose, treat, cure, or prevent any disease.
Viral Shield Info Sheet