Suntheanine® brand L-theanine is an amino acid that helps promote relaxation and reduces stress.  It's free of the side effects commonly associated with other relaxing agents and can be used to aid in stress management.*
L-theanine – Promote Relaxation and Reduce Stress
L-theanine is an amino acid that helps promote a restful, relaxed state without diminishing daytime alertness.* It's free of the side effects commonly associated with other relaxing agents and can  be used to aid in stress management.
During a study of human volunteers, L-theanine promoted the generation of alpha brain waves, an indication of relaxation.* Another small, controlled clinical trial suggests that L-theanine supports a healthy stress response.* Results of yet another human trial suggest that L-theanine may act via the sympathetic-medullary system, either in addition to or instead of the hypothalamic-pituitary-adrenal axis.* L-theanine has long thought to interact with the binding of L-glutamic acid to glutamate receptors in the brain.*
Yokogoshi H, Kobayashi M, Mochizuki M, Terahima T. Neurochemical Res. 1998;23:667–73.
Juneja L, Chu D, Okubo T, Nagato Y, Yokogoshi H. Trends in Food Sci Tech. 1999;10:199–204.
Ito K, Nagato Y, Aoi N, et al. Nippon Nogeikagaku Kaishi 1998;72:153–7.
Kimura K, Ozeki M, Raj Juneja L, Ohira H. Biol Psych. 2007;74(1):39–45.
Yoto A, Motoki M, Murao S, Yokogoshi H. J Physiol Anthropol. 2012 Oct 29;31:28.
Recommended Directions
Take one or two capsules two or three times daily.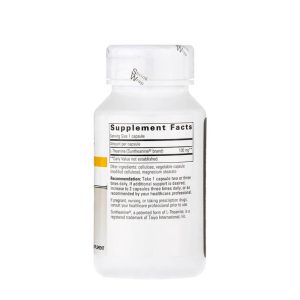 *This statement has not been evaluated by the Food and Drug Administration. This product is not intended to diagnose, treat, cure, or prevent any disease.