Five formulas in a single-dose packet:
Daily Multivitamin
Probiotic Plus
Omega 650
Vitamin D3 2000IU
Magnesium
These basic supplement packs are an easy way for a foundation of high quality supplements.  They are designed to:
Provide foundational supplementation for overall health*
Support intestinal and microbiome health*
Support healthy magnesium and vitamin D levels*
Promote healthy immunity*
Provide omega-3 fatty acids for good nutrition and healthy cytokine production*
Recommended Directions
Take the contents of one packet daily.  Individuals taking blood thinners or other medication should discuss potential interactions with their healthcare practitioner.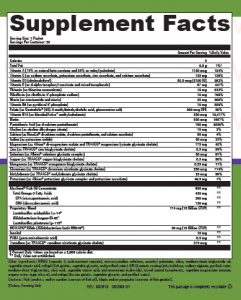 *This statement has not been evaluated by the Food and Drug Administration. This product is not intended to diagnose, treat, cure, or prevent any disease.
Daily Wellness Pack Info Sheet