Sustainably Sourced Fish Oil Tested for Purity
Pure Omega HP from Integrative Therapeutics is made with the highest level of quality and purity in the supplement industry.* The fish are sourced only from fisheries that pass the highest standards for sustainability of marine eco-systems. To maintain the quality and purity of the finished product, Integrative Therapeutics uses a proprietary green tea preservation system. Every Pure Omega product lot is sent for independent testing, the results of which can be seen at integrative.com/pure by typing in the specific lot number of each bottle.
Also available as Pure Omega Ultra HP, with a higher concentration of fish oil per capsule.
Pure Omega HP provides a total of 1,136 mg omega-3s in one soft gel:
375 mg EPA
125 mg DHA
75 mg other
Features of Pure Omega HP
Triglyceride form of Omega-3
Utilizes molecular distillation
No fishy burp backs
Utilizes a proprietary green tea preservation system to prevent oxidation
Sustainably sourced from anchovies, sardines & mackerel in Peruvian waters
Pure Omega Check: Every lot of Pure Omega is tested for purity and labeled potency claims. The results of these tests are available to you using the lot number found on each bottle. Get Your Pure Omega Check Report
Recommended Directions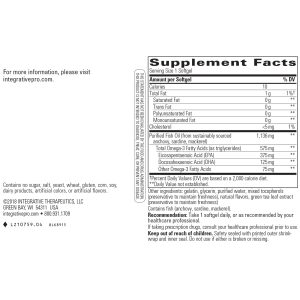 *This statement has not been evaluated by the Food and Drug Administration. This product is not intended to diagnose, treat, cure, or prevent any disease.
Pure Omega Info Sheet