Rest & Recovery features a synergistic blend of phytocannabinoid-rich, THC-free hemp extract to support the endocannabinoid system. The premium natural emulsifier delivery matrix is MaxSimil®, an IFOS five-star certified esterified fish oil that contains the omega-3s eicosapentaenoic acid (EPA) and docosahexaenoic acid (DHA).*
Used for:
Joint & Muscle Support
Relaxation & Sleep
Immune System Support
Essential Fatty Acids
Every batch of Rest and Recovery has a full Certificate of Analysis (C of A) available to ensure that this product is totally THC-free, as well as free from heavy metals, mycotoxins, pesticides and other harmful additives.  Click here to view the current C of A.
Recommended Directions
Take one or two capsules daily.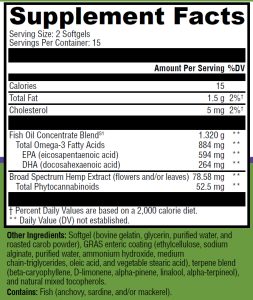 *This statement has not been evaluated by the Food and Drug Administration. This product is not intended to diagnose, treat, cure, or prevent any disease.
Rest & Recovery Info Sheet